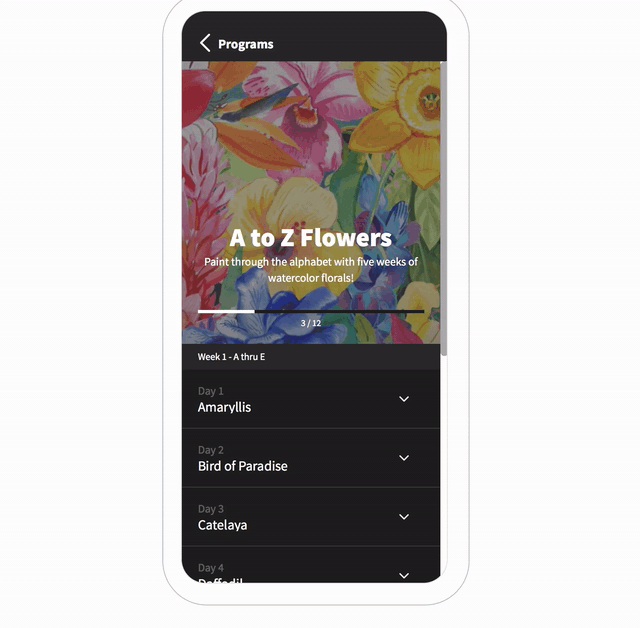 THE A-Z FLOWER PATHWAY
25 flower-a-day video lessons + 5 weekly milestone chats:
Supplies & Water Control • The Power In Brushstrokes
Contrast & Layering • Composition • Applications
​
PLUS BONUSES: PDF floral references download + Professional design brief from Design A Notion

View the #azflowerpathway gallery
DOWNLOAD FROM YOUR APP STORE

APPLE | ANDROID
internalize the class content with community + WEEKLY video FEEDBACK
COMING AGAIN: APRIL 2020
Don't miss out on the unique experience of learning alongside others in a small, encouraging community as you paint your way through the alphabet! Amarilys critiques each work in a weekly video critique, two of which are live group calls! Participants have found it extremely helpful to have custom-tailored feedback to their work as the floral journey progresses.
CLICK HERE Reserve your spot for the 5 weekly critiques and join the community. Space is limited.
Teaching over 95,000 students
enrolled in her classes, Amarilys
has inspired many to pursue their passion and uncover new skills.
Learn from any of her 20+ classes on Skillshare covering watercolor, illustration, and design thinking. Receive three months free on Skillshare's membership platform by clicking
the unique link below.
"REALLY GREAT CLASS AND GREAT INSTRUCTOR. I THOUGHT THAT EVERYTHING WAS REALLY DESCRIBED WELL, AND HER TEACHING STYLE IS GREAT! I CAN'T WAIT TO TAKE MORE CLASSES FROM HER!"
"AMARILYS' CONSULT WAS VERY FRIENDLY AND THOROUGH, AND SHE DEMYSTIFIED ART LICENSING. SHE GAVE ME A STEP BY STEP OF WHAT TO DO NEXT IN ORDER TO START PITCHING MYSELF SUCCESSFULLY TO COMPANIES."