the a-z flower pathway
PAINT 25 FLOWERS IN 25 DAYS
25 VIDEO LESSONS
Twenty-five flowers taught individually through twenty-five video lessons, each twenty-five minutes or less! Paint alongside Amarilys in her trademark casual fashion as she candidly covers just how to paint each flower and with which tools.
+ 5 MILESTONE VIDEO CHATS
Each week teaches an over-arching lesson--from

Supplies & Water Control

to complex

Composition and Digitization

--all taught in a straight-forward, accessible way.
BONUSes right on the app
Design A Notion provides trend packages with a professional design briefs!One curated trend package is included to inspire you in creating your commercial portfolio-ready artwork. Clear direction with on-trend color palettes, inspiration, brief prompts and applicable tips to make your work shine and resonate with the current trends!
Download a PDF with hundreds of flower references right from the app. They are isolated and organized by color, making it easy to find the color of flower you need on the spot along with its name!
WATCH NOW or DOWNLOAD THE APP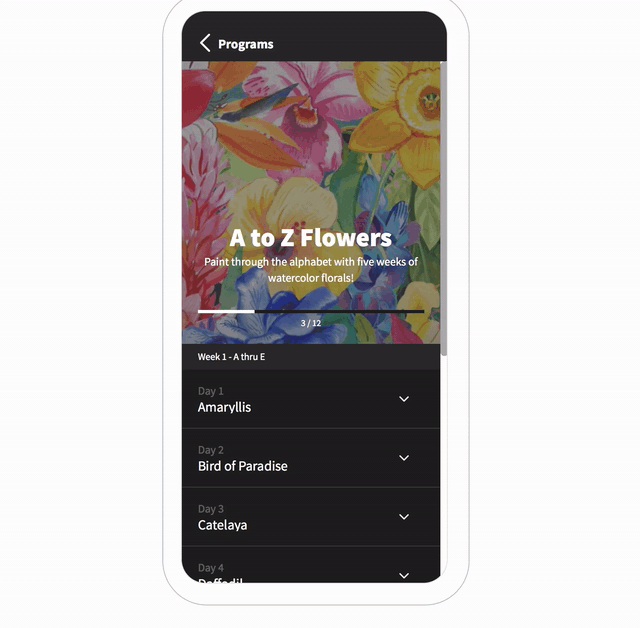 Amarilys always provides wonderful classes. One of my favorite things about her style is that she teaches the key skills she utilizes when creating her own work with examples... a tool box to manifest your own creative vision. Thanks, Amarilys!!
Really great class and great instructor. I thought that everything was really described well, and her teaching style is great! I can't wait to take more classes from her!
You can tell that Amarilys is very thoughtful and puts lots of time and effort into creating these courses. I really enjoyed watching the classes and making this project! I learned a lot!